Autonomie 3 Diesel Fuel in details - Materials of point and innovation

Outside, the car is characterized by its fine silhouette, lower, less broad than its predecessors, it is definitely more effective aerodynamically, by offering one Cx (0.14) and a frontal surface of very first order.
This prototype is designed to ensure a maximum resistance and a rigidity for a minimum weight, this is realizable thanks to the large-scale use of carbon fibre (frame-hull, higher hull, nose gear).
It has a nose gear with pivot blade of particularly clever carbon, on which come to assemble the wheels via insert out of aluminium and of titanium rocket.
The nose gear wheels have carbon rims, the aft wheels lays out it of a mixed aluminium/complex rim triangulated out of glass fibre.

Fuell Cell (2010)
For 2010, the propulsion is assigned to an electric motor powered by a Fuel Cell. The battery supplied with hydrogen and oxygen and produces electricity and water!
Diesel (2004 à 2009)
Mechanics includes/understands, of course, the one-cylinder diesel HATZ diesel 1B20 4 strokes 232 cm3 with direct injection. Worked again and developed, it is coupled with a centrifugal clutch

It is advisable to regard this prototype as a whole, integration engine/frame very is successful: the unit is very compact, the carrying engine, fact integral part of the frame of the vehicle, one finds in particular this configuration Formulates 1 of them.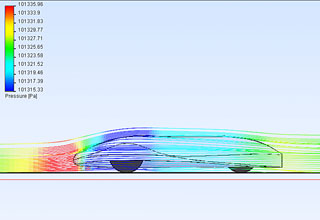 Autonomie 3D - Etude Aérodynamique